The following letter was sent to Christine Dekkers, Attorney General of Antwerp, Belgium, by telefax on November 15, 2005 and by regular airmail on November 17, 2005.
It was the fourth letter sent to Dekkers in the past seven months, since the first letter on May 3, 2005.
There has been no acknowledgement to the letter or any indication that it received due and proper consideration.
75/9 Non Pa Sang
Pha Khao District
Loei Province 42240
Thailand
Tel.: 66 – 1 – 965 – 1493; 66 – 1 – 220 - 6598 (for Lao and Thai);
66 - 4 – 726 – 4836 (for Dutch, English, French)
November 15, 2005
Personal
Mrs. Christine Dekkers (Mevrouw Christine Dekkers)
Attorney General (Procureur-Generaal)
Attorney General's Office (Hof van Beroep te Antwerpen)
Waalse Kaai
2000 Antwerp (Antwerpen)
Belgium (Belgie)
Subject: Cooperation and Assistance of Attorney General's Office Required
Madame:
I refer also to seven letters to an assistant attorney general in Antwerp, ----------, who was previously an assistant prosecuting attorney assigned to the Antwerp juvenile court, between August 2004 and February 2005.
Each letter described a Thai family's desperate search for a loved one, a sixteen-year-old boy, Oliver Albert Chanyut Chokjanphen, in Belgium, and requested your cooperation and assistance in finding him.
An order from the attorney general's office to the police to put Oliver Chanyut in direct telephone contact with his family is urgently needed.
Mrs. Thanomjit was separated from Oliver Chanyut when she returned to Thailand several years ago and prevented by the Thai authorities from returning to Belgium.
Oliver Chanyut has called a neighbor several times from Belgium since then in efforts to contact his mother.
My correspondence described in some detail the family's efforts to reach Oliver Chanyut through Belgian and Thai acquaintances and Belgian and Thai authorities in both countries. All of these efforts have failed.
I wrote to you in the last resort, at the request of Oliver Chanyut's family.
The family would be grateful for your assistance. Please order the police to put Oliver Chanyut in direct telephone contact with his family.
This letter will be posted on an advertised internet website if there is no response or indication that this matter has received consideration.
On behalf of the Chokjanphen family, I am,
Sincerely yours,
- signature -
William Champa

---------------------------------
View published sites:
Request to Attorney General of Antwerp, Christine Dekkers, for Contact with Loved One, May 3, 2005: http://thanomchokjanphen.tripod.com/openlettertotheattorneygeneralofantwerpbelgium/
A Second Open Letter to the Attorney General of Antwerp, Christine Dekkers, July 6, 2005: http://thanomchokjanphen.tripod.com/asecondopenlettertotheattorneygeneralofantwerp/
A Third Open Letter to the Attorney General of Antwerp, Christine Dekkers, September 16, 2005:
http://thanomchokjanphen.tripod.com/athirdopenlettertotheattorneygeneralofantwerp
A Fourth Letter to the Attorney General of Antwerp, Christine Dekkers, November 15, 2005:
http://thanomchokjanphen.tripod.com/fourthlettertochristinedekkersattorneygeneralofantwerp/
Fifth Unanswered Letter to the Attorney General of Antwerp, Christine Dekkers, January 12, 2006:
http://thanomchokjanphen.tripod.com/fifthunansweredlettertochristinedekkersattorneygeneralofantwerpbelgium
Attorney General Dekkers Ignores Sixth Urgent Letter, April 12, 2006:
http://thanomchokjanphen.tripod.com/christinedekkersigoressixurgentrequestsfromfamilytosavechild/
Seventh letter to Attorney General of Antwerp, Christine Dekkers, Unanswered, June 20, 2006:
http://thanomchokjanphen.tripod.com/sevenletterstoantwerpattygenchristinedekkersunanswered
__________
Websites with relevant up-to-date information:
http://thanomchokjanphen.tripod.com/antwerpcityofficialsrefusemothersrequestforchildsoficialresidence ;
http://jameschampa.tripod.com/cityemployeesinantwerpstealingmail/ ;
http://thanomchokjanphen.tripod.com/mailforloveoneintercepted ;
_____________
Websites with relevant up-to-date information:
Return Address:
Mr. William Champa
C/o Mrs. Thanomjit Chokjanphen
75/9 Non Pa Sang
Pha Khao District
Loei Province 42240
Thailand
Personal
Mrs. Christine Dekkers (Mevrouw Christine Dekkers)
Attorney General (Procureur-Generaal)
Attorney General's Office (Hof van Beroep te Antwerpen)
Waalse Kaai
2000 Antwerp (Antwerpen)
Belgium (Belgie)
Enter secondary content here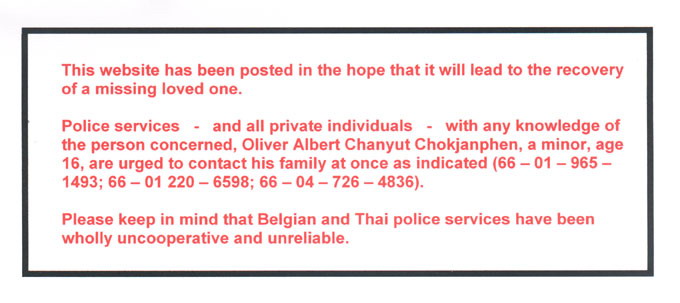 First Letter to the Attorney General of Antwerp, Belgium, May 3, 2005:
http://thanomchokjanphen.tripod.com/openlettertotheattorneygeneralofantwerpbelgium
Second Letter to the Attorney General of Antwerp, July 6, 2005: http://thanomchokjanphen.tripod.com/asecondopenlettertotheattorneygeneralofantwerp
Third Letter to the Attorney General of Antwerp, September 16, 2005: http://thanomchokjanphen.tripod.com/athirdopenlettertotheattorneygeneralofantwerp
Fourth Letter to the Attorney General of Antwerp, November 15, 2005:
http://thanomchokjanphen.tripod.com/fourthlettertochristinedekkersattorneygeneralofantwerp
Fifth Unanswered Letter to Christine Dekkers, Attorney General of Antwerp, Belgium, January 12, 2006: http://thanomchokjanphen.tripod.com/fifthunansweredlettertochristinedekkersattorneygeneralofantwerpbelgium/